A PhD Statement of Purpose is a piece of admission document typically two or three pages in length that details one's interest in a doctoral program. It's regarded as one of the most important admission documents hence the need to make it vivid, individualized, and compelling. In this article, I will borrow from over a decade of editing and reviewing Ph. D Statements of Purpose to explain the step by step process of creating a doctoral SOP that will convince the admission committee that you're deserving of a slot in the program.
We're now offering one-on-one expert guidance on how to write a statement of purpose. This is in addition to our reviewing, editing, and standardizing services. Check out our ordering page, fill out the required details and let us help you craft a statement of purpose that will flood your email with admission offers.

phdstatementsofpurpose.com
Most read articles:
Step 1: Prepare
Whether you're writing a SOP, Graduate CV or any other admission document, it's always important to prepare. With your SOP, start by creating an outline of five parts as will be shown shortly.
(If you're struggling with how to start your Statement of Purpose, you can get started by answering these 9 questions)
Part 1: Create a "hook" opener
Admission committees receive thousands of application against limited slots. If your SOP is bland and boring, it won't catch their attention. Therefore, start with a hook that grabs their attention and use it to explain how your interest in the field emerged and what motivates you to study it. This is not always easy to do but you can follow the following pointers:
Think and brainstorm about a moment that made you decide to pursue this course. This may be a sick relative, a negligent nursing practitioner (in case you are writing a statement of purpose for nursing) etc that you encountered and decided that things can be done differently. Even as you create an interesting hook, don't exaggerate. Be truthful and credible. Every applicant writes about their passion in the field of study. Why would you be applying to a field you don't have passion for?
Brainstorm to create a catchy opener
Part 2: Note down your experience in this field
Sketch out the experiences that you've acquired in the course of your studies and professional practice. Start with the most recent and relevant. If you're applying for a PhD in nursing, note down your master's thesis and practicing experience. You don't have to include high school experience unless you're writing an undergraduate nursing statement of purpose. Some of the details to sketch out include:
Master's and undergraduate thesis
Any other major research work
Senior projects
Publications and presentations
Volunteer and professional experience
Part 3: Note in details what you want to study
This is the stage where you discuss what you want to study and why the school you're applying to is the best fit. The trick here is to be very specific. If you're applying for a doctoral slot in nursing for instance, you may make it specific by describing how different facets e.g gender, social status etc interact in a complex interplay to influence nurses' attitudes and patients' outcome.
Example: "I know that despite its profundity, my master's study barely scratched the surface of the complex and nuanced relationship between a nurse's gender, socio-economic background, race and the attitude towards patient, pointing out to the fact that this is a richly diverse and deep area crying out for further scholarly and empirical exploration." It's also at this point that you research about the school and the program. You may scour their webpage or speak to a faculty member.
Bring out your experience
Part 4: Think about your dreams and future goals
Daydream about where you want to see yourself after completion of the doctoral program. Think about all the possible positions in research and practice, isolate that/those that align with your interest and discuss it/them succinctly.
Part 5: Don't ignore specific requirements by the institution/program
Some educational institutions require that your Statement of Purpose responds to particular questions. If that's the case, pay attention to the questions asked.
Step 2: Drafting your SOP
Having prepared an outline, it's now time to draft your SOP. This section is divided into six parts illustrating exactly what should go where.
Part 1: Impress the admission committee with your grasp of the field
Dedicate one paragraph to wow the admission committee with your knowledge of the field. You may describe a topic, theory, or author that has triggered your interest in it. If you want to make it even more engaging, formulate a question.
You may for instance ask: "would an African American patient respond differently to care offered by a white or black nurse and what impact would this have on the health outcomes?"
If you decide to impress them instead, you may have something like this: "A recent study by XXX Organization found that African American Covid-19 patients admitted at XXX hospital were twice likelier to die or face prolonged hospitalization if attended by white nurses. The rate fell by 70% when they were attended by African American nurses. The startling findings have rekindled an old debate on the effects of nurses' racial orientation on patients' care, an area that I am deeply interested in having worked and researched on race as a social determinant of health inequalities."
Show that you understand the topic/field
Part 2: Illustrate with specificity
Your SOP should not be generic, vague, or boring. Don't tell. Instead, show everything with specific details. Examine the following two statements for instance:
Statement 1:
"While working as a nurse, I gained important experience that will greatly help in my studies."
Statement 2:
"While volunteering at the XXX psychiatry wing as a nurse, I discovered that African American patients with mental health issues were coming to me in numbers even when my white colleagues were idle. It piqued my interest and as soon as I established rapport with a few of them, I asked them the reason for this behavior. A consistent pattern emerged that they felt more heard and a greater connection with. That's when it occurred to me that representation in nursing profession can be a profound determinant of health outcomes among minorities."
Be specific
What sets apart statement 2 from 1? Obviously, while the first one is general, the second one is specific and thus likelier to "excite" the admission committee.
Part 3: Blow your own trumpet
Remember you're competing for a few slots against people who could even be in possession of greater accomplishments than you. You don't win against them by being modest about your own achievements. But here's the catch-don't be general when writing about your accolades. Nail them down as shown below.
Statement 1: "Since I started school, I have always been a top performer excelling academically through high school and university."
Statement 2: "On account of my groundbreaking studies and publications on racial health disparities, I was awarded a $1000 grant by the Center for Equality to fund my research on Covid-19 and its effect on racial minorities. My research work in this area has recently been published and awarded the Master's Research Award, the highest accolade at XXX University."
Illustrate, don't just tell
Write as in Statement 2 not 1
Part 4: Mention who you want to work with
Mentioning the name of the professors you'd like to work with shows that you've done your research well and are really interested in the program and educational institution. This means that every doctoral statement of purpose should be customized and individualized as opposed to being generic and general.
When writing about the professor you'd like to work with, mention their name, credentials, and why you'd like to work under them.
Example: "I am especially drawn to the prospect of working with professor X, whose research work on race and health disparities inspired my interest and research in the area. I am drawn to his radical ideas on eliminating health disparities by structurally bringing down the existing eco-sphere and replacing it with a more person and community centered approach to nursing."
Create the sense that you belong to the school
If you can't find a professor who appeals to you, you can instead write about other things that attract you to the school or program. Mention the school/program's strengths as well as what you bring to them.
Part 5: Explain any academic anomalies, gaps, and issues
If you've a failed grade, gaps, or any other pertinent issue you'd like to bring the attention of the admission committee, a SOP is a chance to explain it. A failed grade may for instance be explained as academic setback. Be creative and show how you bounced back.
Example: "After narrowing down my studies to my area of interest, I was able to focus more and improve my grades receiving among the highest grade in my undergraduate cohort."
Academic gaps may be explained thus: "After my master's studies, I spent three years as a nursing supervisor, an experience that held me to test, implement, and improve my findings on improving health outcomes among minorities."
You can turn the tables and use the anomalies to show a strength
If you changed career and now want to pursue graduate studies in the new career, your SOP should emphasize that you've transferable research and professional experience, and that you've the mental acuity to ace the program. We've written in details how to write this kind of SOP in this article.
Part 6: Brevity
Be concise and stick within the given word limit, typically 650-1000 words.
Step 3: Review your SOP
Ensure that it flows well
Remove typos and grammatical errors
Ensure you've met all the requirements
Edit and review your SOP by following these steps
You may consider having a professional editor who is also an expert in your field edit and review your Ph. D statement of purpose by CLICKING HERE
Five Examples of Successful SOPs that Earned Admission to Top School
We've drawn from our decade of successful experience in editing and reviewing of admission documents to prepare these successful SOPS. They cover a wide range of subjects and levels. To recap, they have been written using the format and strategies described earlier. The table below recaps the structure of a standard SOP. (A more detailed description can be found in this link)
| | |
| --- | --- |
| Paragraph 1 | Start your SOP with a hook |
| Paragraph 2 | Explain what attracted you to the field. A personal story bodes well for this section |
| Paragraph 3 | Describe your academic background |
| Paragraph 4 | Describe the extracurricular activities you've participated in |
| Paragraph 5 | Describe your educational and professional accomplishments |
| Paragraph 6 | Explain the problem or question you intend to address in your study as you bring in your future goals |
| Paragraph 7 | Explain your fitness for the program/educational institution |
| Paragraph 8 | Reiterate your passion, research interests, future goals, the fitness for the program |
The general format of a SOP
We reckon that the structure above was employed to great effect in this Biomedical engineering SoP that won acceptance at MIT and Stanford: MIT & Stanford Accepted SoP and the Simple Formula used to Write it
Sample #1
This first sample is a Ph. D statement of purpose for nursing, a course that's highly regarded. To gain an admission into a top nursing school, one must have good grades and needless to say, the admission documents such as CV, SOP, and recommendation letters must be good enough.
A case in point is the John Hopkins Nursing School. Ranked the third best in the world, its acceptance rate is low. According to Find Nursing Schools, a website that collates data about nursing schools and their programs, John Hopkins is hard to get into with a paltry 11% acceptance rate.

To study at the equally prestigious Yale University Nursing School where the acceptance rate is also very low, you'll need a well written customized SOP. Look at the screenshot below for instance:

With those requirements in mind, follow the tips provided in depth at Everything about a PhD Statement of Purpose and How to Write it, which can be summarized as follows:
Explain your interest in the field and how a PhD program at the school will help you
Explain your past academic, research, and professional experience and link it to your intended area of interest
Describe your research interest/gap
Explain how you fit into the university's mission, vision, and philosophy
PhD STATEMENT OF PURPOSE SAMPLE FOR NURSING (780 words)
"Does the color of the skin of a nurse matter and what influence does it have on health outcomes? Are patients more likely to be receptive of care offered by a nurse with the same skin color as theirs? Are health disparities in diverse societies a consequence of lack of representation in the nursing profession? Those are difficult questions for an adolescent to ponder on but as a result of a nasty collision during a soccer match, I found myself thinking them over when I was admitted in a care ward where a majority of the patients were from minority communities and the nurses and other healthcare professionals mainly white. I recognized a pattern in which patients would open up more to a young, black nurse who was probably interning at the facility. Her shifts were eagerly anticipated and she would warm up the otherwise gloomy surrounding with her sense of care and empathy. I felt great connection with her and when it was finally time to go home, I cried on her shoulders as I said my goodbyes.
Years later when it was time to choose my undergraduate course, I found myself thinking about the lady nurse and what she represented. I wanted to make a real difference by becoming what she was to the family in the care ward. As my studies unfolded, I found myself gravitating to issues of cultural and racial diversity and how they affected health and patients' outcome. My undergraduate project on the subject was lauded as seminal and I was selected to present on the same in the prestigious Health, Nursing and Diversity Conference held in Japan. While still an undergraduate I published two more articles on inclusion and nursing with a focus on minority health outcomes. I was consequently awarded two full paid scholarships to pursue my master's in nursing at Scatenberg University where I worked under the inimitable professor of nursing Jalen White. White's work had a profound influence on my research work and I was particularly privileged to have her write a foreword to my book on Nursing and Minorities. We co-presented at the annual Stanford Health Disparities Seminar and her work and brilliance remain an inspiration. Despite the depth of my scholarly work and the accolades they have attracted, I know I have barely scratched the surface of what is waiting to be discovered in this area.
My research interests and teaching experience are primarily in nursing, inclusion, and health outcomes among the minorities. An article published In the British Nursing and Health Journal laid bare the extent to which the minorities in the UK were inordinately ravaged by Covid-19 with lack of diversity in the nursing and healthcare field found to be a leading determinant of this disparity. It's an area where I have practical experience having volunteered as a nurse in the Boston Clinic during the peak of the pandemic. I was one of the three nurses from minority community and I saw how the eyes of patients from these communities shone when they saw one of us. I also served as teaching assistant at Boston Clinic Nursing School where I deepened my understanding of inclusivity and nursing. I collected data for my thesis at the facility and ended up with a project that won the master's thesis of the year. From my research in the area during my undergraduate and master's studies, I see a rich area for scholarly exploration to understand the link between exclusion and health disparities.
Sommerwalt University represents the golden standards in relation to nursing doctoral programs because they are rich, invigorating and rendered by a world class faculty. I am particularly drawn to the prospect of working with Dr. Ian Rash, whose work in nursing psychiatry has attracted heated scholarly debate, some of which I have commented on in a Scola, a weekly nursing blog by Boston Nursing Association. Besides that, I have championed for nursing diversity, an aspect that aligns with the university's philosophy and vision, making me a good fit for the program.
My nursing experience as a teenager, combined with my academic and professional experience, make an exceptional combination that will help me thrive under this program and actualize my personal and research goals. This program is not just an end but also a means to lend my contribution to research and scholarship on how to improve the health outcomes of a section of the population who feel left out of the health system. I see myself teaching at a nursing school while also rendering my nursing services to the less privileged, especially racial minorities. An admission in this program will therefore be a win at both personal and community level."
Sample #2
This second sample is for cognitive science. It is an undergraduate level SOP hence the language and brevity. As you'll notice, it doesn't have the research, academic, or professional experience section as the learner is fresh from high school. Instead, much of the focus is on how the interest in the topic emerged, future plans, and suitability for the program and university.
Statement of Purpose Sample for Cognitive Science (658 words)
"Since I was a child, I have always endeavored to understand why people think and behave the way that they do. This tendency may have emanated from my own struggles with dyslexia. I had difficulty memorizing and spelling words and my speech was delayed. Many would laugh at me whenever I tried to speak, something that hurt my feelings and self-esteem. At this tender age, I was thrust into the deep world of trying to understand human actions and their motivation. With time, I stopped feeling bad about people who mocked me and started pondering about the mental processes that give rise to such behavior. Fortunately, I overcame dyslexia and excelled in my studies but this personal tribulation had a lasting impression on my thinking and character.
While my interest in the human brain may have thawed with my own personal triumph, it received a timely awakening two years ago when I watched Akeelah and the Bee, a film about a girl who overcame great odds to win the highly coveted National Spelling Bee competition. Like me, Akeelah did not have a photographic memory. She was a "misfit" who was harshly judged for her unconventional interests. Being black and a girl, she was subjected to prejudicial treatment. Eventually, she summoned all her mental strength to win the competition. Her victory opened floodgates of questions that left me thinking deep into many nights. What effect does prejudice and negative labeling have on our sense of self and how does this play into our success? Do we have the capacity to overcome these societal and self-imposed limitations? To paraphrase Nelson Mandela, is it our fear that we are inadequate or that we are powerful beyond measure? These questions would spiral out of the personal domain into international scene and I would ponder the stereotyping of African by the west as being poor and backward. Coming from Africa, I wondered the effect these kinds of labels have on the continental psyche. Immediately, I realized that I wanted to study the science behind the brain and the thinking process.
A degree in cognitive science represents the most logical choice for university education for various reasons. I am interested in understanding how the brain works and its relationship with mind. I also want to know how we think and whether our perception and knowledge are objective. I am also interested in learning how we use language. Lastly, I am fascinated with artificial intelligence and would love to learn how we can tap it to build intelligent robots.
Pursing the degree at XXX College is an irresistibly attractive proposition because the program is offered in an interdisciplinary approach that recognizes the brain is complex biological computing machine. Through the program, I will learn about six disciplines namely cognitive psychology, computer science, neuroscience, philosophy, linguistics, and computer science, and the complex intersection between all of them to give rise to a more nuanced understanding of cognitive science. I am also drawn to the college's world-class faculty, diverse student population, and the location in a hospitable, friendly city. I cannot wait to meet top researchers that are hosted in the school in the annual colloquia and interact with them.
Without doubt, I have all it takes to excel in the program. I completed my high school studies in 2021 and attained an A in the rigorous and competitive XXX exams. To overcome dyslexia and attain such a creditable score is testament to my resilience and mental acuity, which will be handy in a more demanding program in cognitive science.
After completion of my studies, I intend to work as a researcher and cognitive scientist. I intend to use the education gained to create computer models that explain human behavior and how the brain can be trained to overcome difficulties. I am also interested in use of computer models and artificial intelligence can be harnessed to modify social behaviors and help confront prejudice and undesirable social behaviors.
Sample 3
The third sample is an MBA Statement of Purpose. MBA is one of the most sought after course. The top universities such as Harvard Business School, Stanford Business School, MIT business school and Columbia University business school having some of the most highly coveted slots for an MBA program. The acceptance rates in these top universities are very low, underscoring the need to prepare well and have all your admission documents including CV and SOPs written at the highest level. According to Forbes, Stanford Business School is the hardest to gain admission into in the world with only 6% of applicants annually being accepted.
Therefore, to stand a chance to get a prestigious MBA in any of those top universities, your SOP must stand out.
Visit the university website to check if they've specific requirements
The Columbia Business School for instance has specific requirements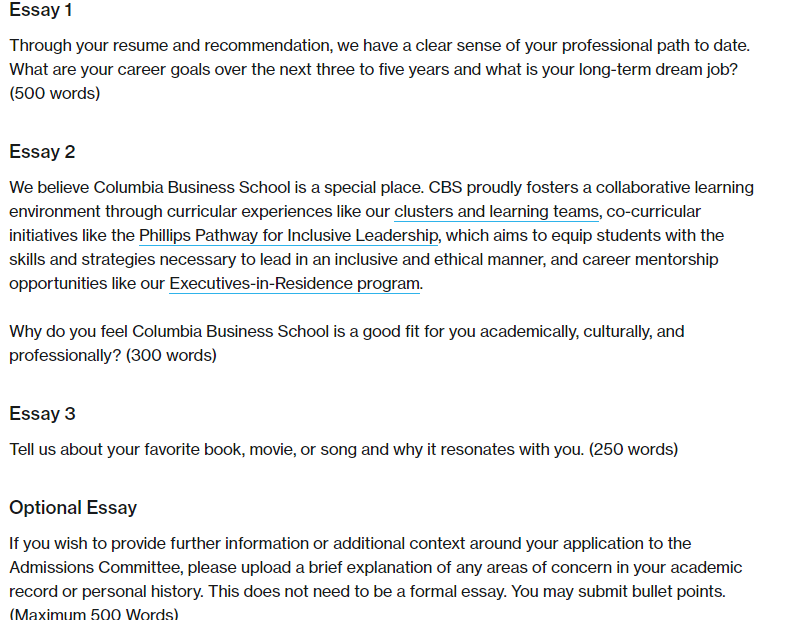 As you'll notice, what's required is not a standard SOP but a series of essays. However, you'll still be required to write about your future goals, reasons the program and university are a good fit for you, and your area of research interest.
Be specific in your answer. Avoid generalities.
Illustrate your response.
Be concise. Follow the allocated word limit.
Generally, an MBA program is for business training hence the need to accentuate your practical experience in business, leadership, innovation, and related areas.
MBA Statement of Purpose Sample (812 words)
"I inherited a rich business heritage that spanned two generations. Both my maternal and paternal grandparents arrived in the US as immigrants and started off as small business owners in dry cleaning and retail store. My mum and my father were the only children so when their parents died, they inherited and merged the two businesses. For more than two decades, the two businesses were my home, nurturing my sales, negotiation, and stock keeping skills. The desire to perpetuate this rich family legacy was so strong that I could not resist the allure of business school when I finished high school. My plan was simple: go to school and gain the necessary skills to take the family business global. I remember watching with glee innovators and entrepreneurs pitching their businesses at the famous Shark Tank and picturing myself doing the same. For me, it was only a matter of time before I could capture one of the sharks and conquer the world. Not to be though as my dreams and those of my family would soon be devoured to shreds, the premises left standing like a vanquished and deserted town.
The Covid-19 pandemic broke out and when we were sent home as one of the containment measures, I was not surprised to see the premises that housed our business locked down. As each day passed, we hoped that the lock-down would end and everything would go back to normal. Banks started calling and soon, the house that we had owned for nearly a century was auctioned to recover an accumulated debt. I tried to redeem whatever little remained by setting up an online business to keep the retail business alive. With rent to pay and elderly, now sick parents to look after, the business never took off. My parents paid the ultimate price with their lives as did many of their friends who had spent their lives building businesses and enterprises that could not survive the vagaries of the pandemic. A town hitherto booming with businesses was reduced to putrid smell of death, grief, and devastation. I was overcome with a sickening sense of helplessness at my inability to save my family and business and had made up my mind not to go back to school when they reopened as I could not see the point.
A year later, schools reopened and after counseling sessions provided by my school, I resumed classes. I studied hard and graduated top of my class with my undergraduate thesis on business resilience, inspired by the family's own failed venture, winning the research paper of the year. Despite its depth and breadth however, I felt that there was still more that needed to be studied in this area. My parents' and their friends' business would have survived if they had the necessary financial and business literacy to navigate through sustained, turbulent times. The lack of training on business sustainability and the attendant lack of literacy on online business anchoring was a costly deficit that was paid with hopes and lives. Looking at the many universities globally, I could not see any that emphasized this aspect of community literacy on small and medium businesses sustainability as you do. I have particularly followed the work of Professor Ian Keith and I am inspired by the work he is doing on helping SMEs rebound from the Covid-pandemic. I look forward to working with him as my research interest is centered on his publications and practical work with SMEs sustainability and management.
For the last one year, I have worked for a local consultancy helping businesses recover from the pandemic. I advise business owners on how to anchor their businesses on online platforms to take advantage of the opportunities availed by the internet. I also advise them on loans and how to structure and restructure them to minimize and manage risks. While my BBA and practical experience have been helpful in this regard, I am sure that an MBA would elevate me to a more superior position to help more people. The prospect of working with mathematical models to help launch as sustain business is a needful innovation that should be mainstreamed through business education.
In future, I see myself working as a consultant for SMEs with a focus on sustainability and business literacy. I intend to advise small and medium business owners on how they can prepare for turbulent times. I also want to spread financial and business literacy on holistic approaches to business management and scaling up small businesses. I believe XXX rich curriculum that is community focused with provide me with the skills needed to achieve these dreams. My passion and commitment to working with the community are well aligned with the program and university mission. I find great synergy in what we do and I hope you will give me the opportunity to further this end more.
Sample #4
The fourth sample is for psychology graduate school. Like with other programs, the starting point is always the university requirements. As seen below, Berkeley University of California for instance has specific requirements for its doctoral SOPs.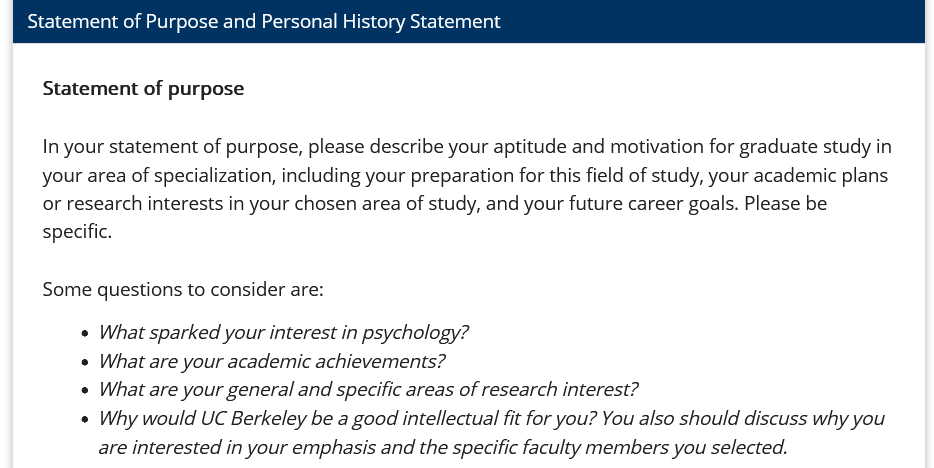 The trick here is to be specific in your response and show rather than state your answers. Do not be generic or vague.
Statement of Purpose Sample for Psychology Graduate School (910 words)
"Growing up in the crime infested, dirty, and poor neighborhoods of India's biggest slum, I became acutely aware of child crime as a kid. My father, a police officer, would be marked man because of his attempts to fight this vice. My siblings and I would be roped in this vicious cycle of revenge by a ballooning gang of adolescent criminals and more than once our family contemplated moving us to the village where we would live and study without fear of reprisal arising from my dad's work. As a started becoming conscious of the work my father was doing, I recognized a pattern. Most of the youth criminals were drug addicts who were abandoned as children and grew up in foster cares where they did not receive significant education or provisions. As a 12 year old, I once argued with my father than kids he arrested would receive better help through counseling and therapy than in the criminal justice system. A dyed-in-the-wool police officer who believed in the power of the rod, my father dismissed my idea as childish naivety. However, a seed had landed on the fertile soils of my soul and nothing would stop it from sprouting.
I would soon join a mixed high school in our neighborhood where I continued to observe the pattern I had established earlier. Most of the bullies in the school were children who had grown in foster homes. They were also more likely to bring to school hard and soft drugs. I keenly observed that their performance was poor and often, they did not complete their studies. When an opportunity arose in the school's counseling and guidance department for a volunteer, I promptly put my name forward. My curiosity and research led me to discover that most of the children under the school's counseling had difficult childhood. I discovered early on that childhood experiences were a powerful predictor of one's behavior way into their adolescent and adulthood. This belief was buttressed by the observation of the after-school rehabilitation program where I again volunteered during the holidays. Childhood trauma, I observed, was linked to higher instances of truancy, anxiety, depression, and risky and suicidal behavior.
These early experiences with children and young adults who have had traumatic experiences stimulated my interest in studying psychology. In high school, I took up guidance and counseling courses and supplemented them with drug therapy during my stint as a volunteer in the after school care program. In school, I took up psychology lessons and was fascinated by how the discipline helps to describe, understand, and predict not just human behavior but that of other living organisms. My biology lessons also helped to understand how our behavior is shaped via a complex interplay of hormones, brain chemicals, and genetics in ways that we have very little understanding about. I took particular interest in the physiology, neuroscience, and behavioral science and realized just how psychology cuts across many and complex disciplines just to explain and predict how we behave. By now, my path for undergraduate studies had been cast in stone.
At XXX University where I undertook my undergraduate studies, I fully immersed myself into clinical psychology with the singular objective of understanding the peculiarities that shape the future behavior of children who had been exposed to trauma and other unpleasant early experiences. I was privileged to work with Dr. YYY and Dr. PPP, two of the leading researchers on childhood traumatic experiences and their influence on future behavior. The two noticed my interest and passion in the subject and assigned me to conduct literature review, collect, analyze, and interpret data for the biggest PTSD project in the university. While working on this project, I developed the observational and analytical skills needed to conduct research in clinical psychology. I deployed this experience in my undergraduate thesis which won me a full scholarship for a master's degree at the same university. However, while appreciative of the opportunity, I realize that the university does not cover the specific area that I am interested in namely the endocrinological and neuro-scientific predictors of latter day behavior in children with traumatic experiences and how to reverse them. My research interest is focused on abnormal psychology and I intend to develop further my understanding of pathological effects of early experiences on future behavior.
The master's program in XXX University is particularly appealing to me because it is not just heavy on research but recognizes the influence of other fields on clinical psychology. The focus on clinical science, cognition and neuroscience, social-personality psychology, and behavioral systems is a testament to recognition that we cannot understand or predict human behavior from a single perspective. I am also drawn to the university by the prospect of working with prof. XXX, whose work on simulating behavior using computer models hold great promise in changing the way we approach psychology, crime, and human relations.
My future plans revolve around going back to the community to make a positive contribution. Every day, I think of my dad and the difficult work he has done all years policing young people all without a deeper understanding of human behavior. I intend to develop my country's comprehensive childhood trauma response and behavior change program that will target young people in crime. I also intend to continue with my research work in clinical psychology to inform public policy. A master's program at the XXX University will offer me the opportunity to achieve these goals."
Sample 5
The fifth sample is for a statement of purpose for computer science degree. The course is highly coveted and admission to top universities such as MIT and Stanford is highly competitive. Therefore, in addition to good grades, your statement of purpose needs to tell your story in such a unique way that the admission committee will consider you. Below, we present a standard SOP for Computer Science for college/university.
Statement of Purpose Sample for Computer Science
"I grew up in a part of Africa where most Africans consider remote. Mobile network was hardly steady and we had to walk a long distance to find coverage for a minute or so chat with our relatives in the city. My grandfather's phone, the only one in the locality was an object of wonder and fascination. When an uncle visited with what I learned to be smartphone, I talked about it over the next few days in school. He would occasionally send money to his father, who would travel 100 miles or so to get an agent to withdraw the money. How could money fly from one phone to another over long distances? Such questions disturbed my young mind a great deal. I started making phone toys from mud and would mimic my grandfather, quite to the amusement of everyone. My 'wakie Takie' was displayed in the school's innovation week and my obsession with communication gadgets was set aflame.
After completing and excelling in my elementary school, my grandfather got a call that a school in the city had followed my journey and I had been shortlisted for a scholarship interview. The school was a brainchild of the CEO of the top telecom whose gadgets I had created and displayed in my school. They noticed my innovation and when I passed my exams well, they made a move and offered me a place in their prestigious academy. Upon admission, I was given a tablet and a laptop and for the next few weeks, I could not take my eyes or mind off the gadgets. I was perplexed at how they worked and despite seeing them for the first time in the school, I was showing others how to use them having learned so fast because of my interest.
Naturally, I took up computer and mathematics classes and was amazed how the two subjects applied logic to solve common problems. During my third year in high school, I created a mobile application that connected farmers in my rural area to milk consumers in the city and in the process boasted the income of the local population. For my work, I was awarded a $500 grant to come up with more app-based solutions to local problems that affect my community. I also got to meet the company's top computer brains and interact with programmers from all over the country. I graduated high school as the top student and was offered a role as a computer laboratory assistant where I mentor high school students on mobile application development.
While there are many universities in my country offering university courses in Computer Science, XXX University towers above them because of its global reputation and world class faculty that I cannot find in my country. Besides, a perusal of your syllabus reveals that cover the areas that I am most interested in namely mobile and sensor computing and artificial intelligence. The university brings together the best brains from all over the world and I am confident that I can fit there. The university's mission and philosophy to uplift the community is aligned with my personal ambition and ethos and this makes certain that we will be a good match.
Upon graduating, I intend to come back to my country and contribute to the mobile and digital revolution that is currently unfolding. I plan to employ the high quality education that I will receive to uplift my community through providing easy to use mobile and technological solutions to ease the challenges of water shortage, insecurity, and poverty.
Everything that I have done in my whole life has prepared me for this opportunity. Coming from a poor, rural community to attend a top academy and graduate top of my class was testament to my mental acuity and resilience. I intend to bring the same dedication and commitment that has brought me this far and with the support of the wonderful faculty and community at XXX, I am sure that I will excel."
Final Call
It's always recommendable to have someone go through your SoP before you submit it.
A friend or a family member can help to tell whether you've represented yourself credibly and compellingly enough.
A professor or a faculty member may also help to tell whether you've captured your academic and research background well enough and connected them to your research interests and suitability for the program.
At phdstatementsofpurpose.com, we are that friend and faculty member.
After reviewing thousands of SoPs and personal statements, we can tell a good from a not so good SoP, and a good one from a great one.
We've internalized the structure and language of writing SoPs and with our team of experts; we'll sit down and dissect your draft.
We'll point out areas of strengths and weaknesses and propose how to structure and express your SoP better.
We'll give intense and detailed feedback so that you express your thoughts with clarity and bring out your uniqueness.
We'll ensure that the final product is delivered in time, is logical and coherent, intellectual, and polished.
Tell us which aspect of your SoP writing you're struggling with:
How to start?
How to conclude?
Written your SoP but you're unsure whether it meets high enough standards?
Check out our PACKAGES and get in touch.
Other Highly rated Samples
You can sample some of the samples that gained multiple acceptance in top universities.
If you're struggling to craft your Statement of purpose, speak to our friendly professionals for a little help. Chat with us HERE
[learn_press_profile]